Cybrargonians on the Net #6
By Terry Brainerd Chadwick, InfoQuest! Information Services
This issue looks at some of the resources about Intranets that are available through the Internet.
---
INTRANETS
The fastest growing use of the World Wide Web is not the Internet and is not accessible to the general public. Corporations have discovered and are rapidly implementing intranets as a solution to their internal communications needs. The term intranet refers to the use of Internet World Wide Web technology within the organization rather than for external connection to the Internet. In June 1995 only 11% of corporations had intranets. A year later 55% of companies have intranets (Cyberatlas). This article lists some of the Intranet resources sites available on the Internet, as well as some good articles and papers that discuss what intranets are and why companies should consider using them.
The Intranet Journal


Presented by BES/Internet Services this site contains the latest intranet news with excerpts from leading publications, resources for creating and mainting intranets, the Intranet FAQ, Intranet 101, Expert's Corner, links to intranet-related services and resrouces, and an intranet toolshed with a collection of intranet-related software.

The Complete Intranet Resource - Intranet Reference Site


This reference site includes an introduction to intranets, Intranet FAQ, What's new, intranet articles, white papers and books, a Q&A section, intranet firewall resources, intranet software sources, intranet case studies, intranet jobs, intranet vendors, intranet training and conferences, and more.

Webmaster: The Intranet Resource Center


This site contains Webmaster magazine's take on the Intranet. It includes case studies, technology notes, training opportunities, and other information presented from a webmaster's point of view.

CyberAtlas' The Internet Research Guide: Intranet


This article provides information about the growth of intranets, top reasons why businesses are adopting intranets, and some market forecast figures.

Intranet -- A Guide to "Intraprise-Wide" Computing


This is an excellent article about intranets by the Process Software Corporation. It describes how intranets are a cost-effective, timely solution to organizational communications. It includes case examples of how an intranet can improve communications, as well as information about key considerations in choosing a WWW server and the differences between intranet vs. groupware.

Jump Start Your I-Nets


This article providesa seven step guide to intranets that includes conducting a realistic needs assessment, use a dedicated server, intranet security, and develop an intranet publishing policy. A follow-up article discusses the pros and cons of outsourcing your intranet. Datamation, February 1, 1996, p.30.

Here Comes the Intranet


This article presents Business Week's take on intranets. It is a good overview of intranets and includes some statistics and case examples. Business Week, February 20, 1996.

Creating Private Intranets: Challenges and Prospects for IS


This is a white paper written for the Attachmate Corporation by David Strom, November 16, 1995. This paper describes the rise of corporate intranet, the features of intranets and how they work, and lists key intranet technologies to watch.

http://www.strom.com/pubwork/intranetp.html


This is a graphic that illustrates the relationships between the various communications media.

FUN STUFF
Have you ever needed a map with directions to your home or place of business and had to resort to a rough hand drawing or a poor photocopy? If so, you'll appreciate these map programs available on the WWW.

Vicinity Corporation's Map Blast! web site that not only helps you locate places that you want to visit, but will prepare maps to your home for printing or e-mail.

MapQuest provides interactive atlases for cities around the world. It also offers TripQuest which provides instant driving directions to get from Point A to Point B, from their database of over 150,000 towns and cities in the continental USA, Canada and Mexico.

Please send any suggestions or coments to tbchad@teleport.com. Cybrargonians on the Net will be archived at: http://www.teleport.com/~tbchad/index.html.
Copyright August 1996, Terry Brainerd Chadwick. Reproduction/distribution without the author's consent is allowable so long as it is for non-profit purposes.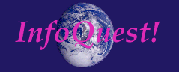 Return to InfoQuest! Information Services Home Page
Copyright August 1996 InfoQuest! Information Services
Please send any comments to tbchad@teleport.com
Logo graphics by Patrick Beart, Web Architecture.

URL= http://www.teleport.com/~tbchad/cybrar/cybrar6.html