Cybrargonians on the Net #3
By Terry Brainerd Chadwick, Infoquest! Information Services
This issue covers intellectual property issues, search engines and subject guides, and contests on the Web. The section on search engines is much expanded over the print column version.
---
Intellectual Property and the National Information Infrastructure
The growth of electronically-supplied information and multimedia documents has complicated the issues involved with intellectual property and copyright laws. The White Paper on Intellectual Property and the National Information Infrastructure, by the White House Information Infrastructure Task Force (IITF) is an effort to address these issues. The report explains how intellectual property law applies to Cyberspace and makes legislative recommendations to Congress to fine tune the law for the digital age. Some of the recommendations, such as extending the number of years covered by copyright, will have significant impact on librarians.

You can find this report in HTML format on the Web site of the US Patents and Trademarks Office. It is also available for downloading in Adobe Acrobat (pdf), Microsoft Word and ASCII text formats.

This White Paper has been translated into legislation, House Resolution 2441 and Senate Bill 1284, the text of which is available on the Thomas Legislative Information service:

I've also placed ASCII text copies of the White Paper, and the corresponding House (h2441) and Senate (s1284) bills on the InfoQuest! ftp site:

For more information about Internet resources on copyright and intellectual property issues see the TradeWave Galaxy subject guide:
---
Internet Search Engines and Subject Guides
The number of search engines and subject guides designed to help people find information on the Internet is growing rapidly. The quality of these finding mechanisms is also improving. Gone are the days of straight boolean or relevancy searching. The distinctions between search engines and subject guides is also diminishing. These days most search engines have subject guides and vice versa. And most of these services allow a choice of searching by phrase, with AND or with OR. Some allow truncation -- beginning, ending, and middle wild cards -- and a choice of the part of the record, or Internet, that you search.

So, how do you choose which of the search tools on the Internet to use? The answer is the same as doing any other sort of research. Decide what your topic is and the type of information you want, and then use more than one tool. For complex research, use one of the meta-search engines that allow for custom-tailored searches and that search more than one finding mechanism at a time. If you have a focused topic on a particular subject, use one of the specialty subject guides.

The list that follows is by no means complete; they're ones that I regularly use, or that collagues have recommended, to find information on the Internet. In general, when I'm looking for information on the Net, I go first to Infoseek --it's conveniently sitting on my Netscape browser under the Net Search button and offers good coverage of Web sites and precision search capabilities -- and then Metacrawler, Open Text, and Yahoo. If I'm searching for company information, I'll go to Commercial Services on the Internet first. If I'm looking for quickly scannable lists of information sources by subject, I still use TradeWave Galaxy and the Rice University Information by Subject gopher. And the Clearinghouse for Subject-Oriented Internet Resource Guides is still useful when I want a printable guide to Internet resources, although the conversion to html format makes printing an entire guide more difficult and the site less useful.
Meta Search Sites

Search Engines

Subject Guides

Oldies but Goodies
---
Fun Stuff
Do you like contests? Do you fill out questionnaires, complete puzzles, solve riddles all for the opportunity to win a prize. If so, the Internet takes the difficulty out of finding fun contests by putting them at your fingertips. And there are lots of contests to choose from. Find them by going to ThreadTreader's, the Contest Catalogue, or Yahoo, and start winning.

ThreadTreader's has compiled a comprehensive listing of contests, drawings, raffles, sweepstakes, and other prize-oriented promotions available through the World Wide Web. You can search for What's New, Contests Ending This Month, and for contests by prize and theme.
http://www.4cyte.com/thredtdr/contest.html
The Contest Catalogue is a all-in-one-page list of contests, sweepstakes, etc., organized by type of contest. There are also links to other sites with collections of contests.
http://polvo.catalogue.com/contest/contests.html

And, of course, Yahoo has a Contests category:
http://www.yahoo.com/Business/Products_and_Services/Contests/ (For the more business-minded people, contests are a good way to bring people into your Web site and to keep them coming back. They also can be used to persuade people to register on your site, thus providing the kinds of demographic information that marketers love.)

Please send any suggestions or coments to tbchad@teleport.com. Cybrargonians on the Net will be archived at:


http://www.teleport.com/~tbchad/index.html.


The Net versions contain direct links to the resources mentioned in the articles.

Copyright November 1995, Terry Brainerd Chadwick. Reproduction/distribution without the author's consent is allowable so long as it is for non-profit purposes.

[TOP] [Cybrargonians Page]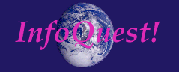 Return to InfoQuest! Information Services Home Page
Copyright November 1995 InfoQuest! Information Services
Please send any comments to tbchad@teleport.com
Logo graphics by Patrick Beart, Web Architecture.

URL= http://www.teleport.com/~tbchad/cybrar/cybrar3.html