Cybrargonians on the Net
#1, by Terry Brainerd Chadwick, Infoquest! Information Services
Welcome to a new column about the Internet in the Oregonized Librarian. This column will explore the wide variety of resources that can be found on the Internet, as well as Internet-related issues such as copyright and advertising.
What is a Cybrargonian? Just a made-up word for cyber-librarians in Oregon. Since there are a lot of us cruising the Net these days I welcome suggestions for topics and pointers to good resources on the Internet. In fact, the idea for this issue's topic, Renewable Energy, and some of the resources cited here, came from Bette Stewart, Energy Resource Center librarian at PGE.
Renewable Energy Resources on the Internet
Bette said that the National Renewable Energy Lab and the Solstice-crest World Wide Web sites have proven valuable resources for the PGE librarians.

The Solstice-crest internet sites seem to have something for everyone with sections on Energy Efficiency, Environment, Renewable & Alternative Energy, Computers & Networking, Education & Social Issues, and Policy, Economics, & Legislation.

Solstice is sponsored by CREST, the Center for Renewable Energy and Sustainable Technology. My favorite part of this site is "What's New This Month," which contained such items as a paper titled, "Advanced Lighting And Window Technologies For Reducing Electricity Consumption And Peak Demand," the "IIEC Sustainable Energy Guide," a visit to the American Council for an Energy-Efficient Economy (ACEEE), a database of certified products from Green Seal, and the illustrated saga of building a solar house in Maine. You can also go on a tour of a photovoltaic installation in Switzerland or visit two bionass installations in Austria, Also available by Gopher and FTP.

The National Renewable Energy Lab provides information on its own programs -- including business opportunities from Commerce Business Daily -- as well as offering links to other renewable energy sites. Also available via Gopher.

Some other sites with useful renewable energy information include:

DOE Energy Efficiency & Renewable Energy Network: EREN links to over 70 different Internet sites that contain valuable information on energy efficiency and renewable energy.

DOE Alternative Fuels Data Center: Has sections on alternative fuel utilization, biofuels, clean cities, refueling sites, and alternative fuels hotline.

Office of Scientific and Technical Information: This DOE site contains technical papers, standards, and an Energy Efficiency And Renewable Energy Database that is under construction.

Environmental Sites on the Internet - KTHB (from Sweden, in English) : A great site listing all sorts of environmental/energy resources including discussion groups and electronic journals.
Business Hot Spot
More kudos to Bette, who also pointed out that The Thomas Register of American Manufacturers is now available through the Internet free of charge, although you must register to use it. Each record has company name, city, state, zipcode, phone and fax numbers, and product headings. The limitations: There isn't a street address; you can only search on product name; and you have to view each record separately.
Fun Stuff
One of my favorite fun spots on the World Wide Web is the Buena Vista Press Room. Here you can find press releases on the most recent movies, movie clips and promos, interviews with the stars, still pictures you can download, and much more. I made my nephew a coloring book with line drawings from the Lion King that I found on the site and learned the song "Hakuna Matata" along the way. As of March 20, there were sixteen movies on the Buena Vista Web site, including: Judge Dredd, A Low Down Dirty Shame, Miami Rhapsody, Quiz Show, Roommates, The Jungle Book, The Lion King, Pocahontas, Bad Company, Ed Wood, and more.

You view the movie clips through the Quicktime Movie viewer, which can be downloaded from Apple Software.
---
Please send any suggestions or comments to Terry Brainerd Chadwick. Cybrargonians on the Net will be archived at on the InfoQuest! Web site. The Net versions contain direct links to the resources mentioned in the articles.

Copyright March 1995, Terry Brainerd Chadwick. Reproduction/distribution without the author's consent is allowable so long as it is for non-profit purposes.

[TOP]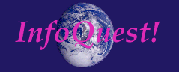 Return to InfoQuest! Information Services Home Page
Copyright March 1995 InfoQuest! Information Services
Please send any comments to tbchad@teleport.com
Logo graphics by Patrick Beart, Web Architecture.

URL= http://www.teleport.com/~tbchad/cybrar/cybrar1.html